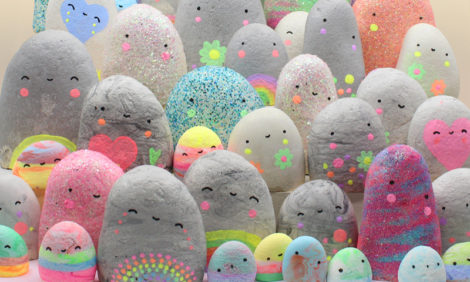 Designed to put a smile on your face: A hyper-coloured small business that's making it big
Artist Pete Cromer finds inspiration in the unlikeliest of places. Take the humble stone, for example. To Pete, a little piece of concrete isn't just a little piece of concrete: it's a vessel for the creation of a uniquely cheerful magical being. This being is called a druid, and it's just one of the many offerings that have seen his colourful design business go from strength to strength.
Pete explains, "I create a lot of abstract work, and these funny blob forms I was playing with first sparked the idea that became my druids. They're special souls, no two will ever be the same. Their name was inspired in part by the mysticism of Stonehenge because they've got really positive energy. Basically, they're here to bring a smile to your face."
On the topic of his business's growing appeal, he continues, "I've got no technical skills in terms of fine art, so everything is broken down into simple forms. This is the best way for me to communicate, and it's also where I have the most fun. Luckily for me, people seem to love the sense of playfulness that comes through in my work."
Six years ago, Pete was working from his lounge room. Today, his boldly hued designs – many of which draw their inspiration from Australian flora and fauna – have been licensed to a number of companies and he's collaborated with the likes of Maxwell and Williams. Safe to say, Pete's body of work is ever-expanding. 
Finding a platform and making real life connections
Here at Xero, our driving force is helping small businesses like Pete's to do beautiful business. Which is why we're proud sponsors of Finders Keepers – a sustainably-minded market that features the work of more than 1200 independent makers and designers from across the country.
And it gives creators like Pete the perfect platform from which to connect with his audience. "For most of the year I hide away in my little studio, focusing on making artwork. Finders Keepers is an amazing opportunity to get myself out there and watch my small business expand (and interact with people on a regular basis which is always a nice change)."
"For me, success means doing what you love and earning an income from it. It's that simple. The most rewarding part is the people that you meet along the way. I've been able to connect with other makers at Finders Keepers, and we've grown to share in each others' highs and lows. In the process, it's like you become part of a special little (unofficial) society."
As a small business owner, Pete has found that at the end of the day, he's the one wearing all the hats (and he means all of them). "Instagram projects the illusion that as artists we wake up every morning, spend the day creating and that's it. When in reality, that's only one aspect of my job. I have to look after the social media, take on the customer service and mastermind the marketing – I do all of it."
Asking for help and saying so long to spreadsheets
Although when it comes to taking care of the numbers, Pete has his support network to thank for showing him the light. "I used to slave away over this horrible Excel spreadsheet, until one day my accountant said: 'Go on Xero and get yourself sorted mate.'" 
"Ultimately, as a small business owner you learn that you can't do everything by yourself. Having a good accountant is like having an ally who's always on your side (I call them 'business friends'). Mine has helped guide me along the way and provide a clear forecast of where the business is actually heading."
Since discovering the ease of accounting software, Pete hasn't looked back. In fact, he's found himself a new hobby. "I'm not usually one for routines. But as soon as I get up each morning, the first thing I do is get on Xero and reconcile the accounts. My brain used to explode when I looked at the numbers, but now, everything is so much easier. With Xero, it's just a few simple clicks and I'm done. I used to think accounting was a total drainer, but I actually enjoy it now. Really."
"The reason I'm such a strong believer in Xero is that it has freed me up to focus on coming up with creative ideas. And in my line of business, that's the most important thing of all."
It's official: Australian businesses are now required to digitally report their payroll information to the ATO through Single Touch Payroll. Join the team behind Finders Keepers in discovering that STP is as simple as a few clicks with Xero.
Held twice yearly in Sydney, Brisbane and Melbourne, don't miss the chance to support small business and find yourself a treasure or two at the Finders Keepers Market 2020 editions.
The post Designed to put a smile on your face: A hyper-coloured small business that's making it big appeared first on Xero Blog.

Source: Xero Blog