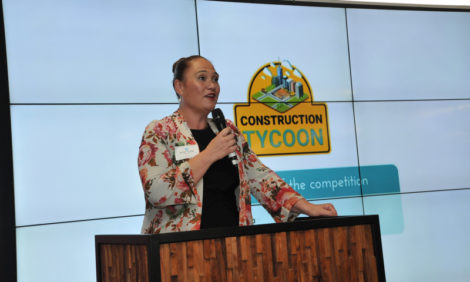 Do you have what it takes to run a small business in construction?
"How do we connect to an audience that is disconnected with traditional education?" – James Coddington, CEO, Joy Business Academy
On Wednesday 15 May, in partnership with Joy Business Academy, Ministry of Social Development, Fletcher Construction, Microsoft, BDO, and Building Construction Industry Training Organisation (BCITO), Xero hosted the launch of the third game in the Tycoon Series – with a focus on construction.
To officially launch the new construction business game, and the New Zealand national schools competition, we were joined by Hon Carmel Sepuloni, Minister for Social Development, Hon Willie Jackson, Minister for Employment, and James Coddington, CEO of Joy Business Academy.
Real world experience
The Construction Tycoon game aims to teach learners how to run a small business in construction. It is set up with challenges and opportunities that small business owners come across daily as they build multiple houses and manage complex construction projects. These challenges provide the opportunity for real-world experience which is critical for our future small business leaders entering the workforce.
"Our aim was to bring in real world scenarios to ensure we had real world learning outcomes for those who take part in this gamification experience," said Coddington.
Construction is unlike any other business. Building projects can last for months or even years, and you might be both an employer and a contractor. So it's vital to learn the basics of business in the construction sector to be successful in this industry. Software makes this easy, relatable and enjoyable.
It's also an important industry for the success of New Zealand. Our government has identified that over the next five years we need another 50,000 construction workers in our labour force.
Xero is proud to support future workers with gamified learning techniques that are proven to engage and encourage young people and will also develop the skills they need to thrive in the future.
A win with students
Learning from textbooks and on outdated desktop tools has made it very difficult to prepare students with the business skills they need in order to work in a modern day business. The Tycoon games give players early exposure to companies they will come across in the real world.
As Hon Willie Jackson, Minister for Employment said, "We need to use every opportunity we have to access young people, and provide them with real world scenarios for running and developing their own business. Not only is it about learning how to build a business but it also provides the opportunity for them to see if this is the right industry for them so they can plan their goals and life going forward."
One thing we know is that real world practice and gamification of learning leads to greater learning outcomes. This is a core part of our DNA at Xero. We're also really passionate about the democratisation of technology and learning or the concept that you can use technology to help anyone succeed, regardless of background. The Construction Tycoon Game allows the distribution of learning materials about how to run a small business to many more people in a fun manner.
"Smart, innovative and based on the premise that people learn in different ways – such as through gamification – the Construction Tycoon game serves as an effective educational tool for people to learn real world skills of how to run a construction business," said Hon Carmel Sepuloni, Minister for Social Development.
Students' opportunity to win big
The opportunity to intern for a day at Xero (and other sponsors) is up for grabs in the National Schools competition, which starts Monday 20 May. All secondary school students in New Zealand can compete to create successful and future-proof businesses in the Tycoon games, which include Construction, Restaurant and Tech.
Xero believes spreading better business and financial literacy skills are vital for the future. This new gamified learning experience will empower learners, business owners and Industry partners to deliver real-world business and employability skills necessary to grow the New Zealand economy.
Think you've got what it takes to run a small business? Join the schools competition for Tech Week or test out your skills on Construction Tycoon.
The post Do you have what it takes to run a small business in construction? appeared first on Xero Blog.

Source: Xero Blog