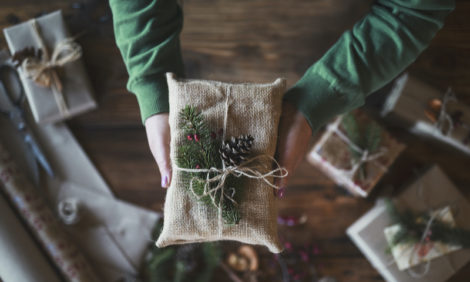 Environmentally conscious small business gift-guide
As we head closer to the holiday session, we want to highlight some of our environmentally conscious customers who have great gift ideas for your loved ones. 
The Source Bulk Foods is the perfect place to pick up a variety of cooking ingredients, condiments and household items for friends and family. You can also find a variety of chocolates and nuts your kids will love! 
The store believes in providing easy access to local and organic unpackaged bulk food for a smaller carbon footprint every time you shop. Satisfy the appetites of your loved ones with conscious consumption.
The company sees access to menstrual products as a right for all people. It partners with Share the Dignity, an Australian charity that distributes sanitary items to individuals who are homeless, at risk, or experiencing domestic violence. The cup makes a generous gift for a friend, those in need, and the environment all in one.
Founders of WIll & Bear, Lauren Williams and Alex Knorr, are passionate about the environment, and hope to aid the reduction of global deforestation with their headwear label. Each one of the high quality pieces from their unisex collection is sustainably produced and made from 100% Australian wool. And what's more, with every Will & Bear hat sold, ten trees are planted on the consumers' behalf. To date, Will & Bear have planted over 58 football fields worth of trees. What an amazing gift to give.
A cosy, luxury blanket from Seljak will warm the heart of any friend or family member, and will definitely warm the bodies of asylum seekers in Australia. 
Founders of Seljak, Karina and Sammy Seljak, were inspired to create their blanket range by their refugee grandparents. For every ten blankets sold, they donate one to the Australian Asylum Seeker Centre in Melbourne. To create without producing more waste, Karina and Sammy have diverted over a ton of textile waste from landfill to create their beautiful contemporary blankets and have donated 70 blankets to charity in under 18 months.
You don't have to sacrifice your passion for the planet to get a beautiful gift. A wonderful present for any home, Mojo candles are housed in vessels hand cut from reclaimed wine and beer bottles. The candles are made with natural soy wax and infused with sophisticated fragrances. Mojo creates each candle and diffuser in the Southern Highlands in NSW, and partners with local wineries, restaurants and bars to transform used bottles to something wonderfully unique. 
A wonderful place to get a present for your mum or a friend, RUUSK crafts elegant jewellery with a focus on durability and sustainability. RUUSK sources all sapphires in its collection locally and purchases diamonds from accredited, conflict-free suppliers – the stones are ethically mined and sold legally. All the metals used are locally recycled and refined, including 9ct, 14ct and 18ct yellow, rose and white gold. Every piece is hand carved, cast and polished. 
Eco-friendly, eco-sustainable, and fair trading, Kenana Down Under supports Kenyan women who knit and want to change the world stitch by stitch. They make adorable knit animals using organic cotton and non-toxic dyes that you can gift to your kids or animal-loving friends. The organisation provides a safe, family-friendly working environment that offers Kenyan women an opportunity to work and to receive monthly health check-ups including eye checks and checks for sexually transmitted diseases. 
Do you give a crap about finding the perfect present? Let's give a crap about the environment instead! If you're looking for something that's good for the world, good for people, and good for the bum, look no further than Who Gives A Crap. Though seemingly a mundane gift, toilet paper is practical for literally anyone. The company uses environmentally friendly materials for its products, and donates 50% of profits to help build toilets for those in need. To date they've donated over $2.5 million dollars to charity. How rewarding would it be to think about the amount of trees, water and energy you're saving as you clean up after a dump?! 
Shower your baby with love with ONE.CHEW.THREE's award-winning handmade silicone and beechwood teethers. Not only is silicone more durable and ocean friendly than plastic, ONE.CHEW.THREE teethers, toys and accessories are independently certified and completely safe for teething your baby. You can even personalise them to add a unique finishing touch. For a more interactive gift, the store offers teething necklaces and silicon nursing necklaces for new mums too! 
Sar.ra offers beautiful, fun-coloured gift options for your friends, family, or even kids and allows you to commemorate the place of aboriginal culture in our everyday lives at the same time. Founder of Sar.ra, Rachael Sarra is a contemporary Aboriginal artist from Goreng Goreng Country who creates art to preserve and celebrate her heritage and aboriginal culture. She adopts a modern take on her designs with traditional symbols, hoping to use art as a tool to educate and inspire. Her collection includes a range of items from prints to key rings, totes, pins and more. Take a browse through her collection for a traditional yet rad gift option!
Generous Jewels is a non-profit, ethical jewellery business which strives for positive social and environmental impact at every turn. Customers also get to choose which of five carefully vetted nonprofits they would like to donate 100% of profit from their order too!  
To create a minimum carbon footprint, all of their packaging and business cards are made from recycled paper and cotton. All international shipping is posted via carbon neutral carriers. In addition, all of their pieces are ethically crafted from natural gemstones, pearls, diamonds, and precious metals, which are sourced from places that strive for minimum disruption to the natural landscape.
You can learn more about their social impact practices here.
To learn more about Xero's focus on social and environmental impact, go to www.xero.com/socialimpact 
The post Environmentally conscious small business gift-guide appeared first on Xero Blog.

Source: Xero Blog