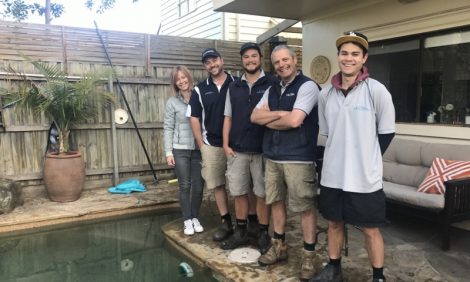 Our second chance at a honeymoon | Kylee and Dave Sharp
Thanks to the brilliant travel planning of the consultants at Luxury Escapes, Xero has been able to give two small business owners a chance to celebrate the new financial year with a relaxing, non-taxing break to the beautiful Namale Island in Fiji.
Xero's Travel Habits survey found that, despite ninety-five percent of small business owners saying a holiday gives them the ability to recharge, one in ten Aussies still aren't taking annual leave regularly because they're too busy with work.
Kylee and Dave Sharp were very familiar with that situation. They started their own pool maintenance business ten years ago soon after having children and getting married. The business took off and, since then, they haven't had a chance to celebrate their success with a honeymoon!
Making small business dreams a reality
For the Melbourne locals, owning a small business was a way to escape the rat race. "I had really bad experiences working for other people so I wanted to do something different and go out on my own," says Dave.
"We got tired of working for bosses and wanted to run our own business. Although it's hard work, it's worth it because we have so much more freedom over our lives," adds Kylee.
Dave had no experience in pool maintenance but when an opportunity to learn the ropes from a mutual friend came up, the two decided to give it a go.
They took the risk, bought a ute, and after a few years of Dave juggling a full-time job while building up his client base, he was finally able to go all out and give up the job.
When Pro Pool took off, Kylee's role of looking after the bookkeeping side of the business expanded, and she found it was hard to get on top of it all.
"We just couldn't keep up anymore, I had to start turning down work because I couldn't take on anything more," reflects Dave.
Our second chance at a honeymoon
As the business continued to grow, they hired more staff to keep up with the demand but still couldn't find time to sneak in a romantic getaway.
"We've actually never been on a honeymoon. We got married over ten years ago and had kids rather fast, so life just got in the way," says Dave.
The two have been together for around fifteen years and say there are a lot of different dynamics in their relationship.
"We met when I was a manager at a bar and I hired him. First I was his boss then I became the mother of his children, his wife, and now I'm his business partner as well," says Kylee.
They say the trip to Fiji will be the perfect chance to reconnect as friends without having to worry about the business.
Their luxury holiday includes return flights to Fiji with six nights at the child-free Namale Resort. It also includes all meals, spa treatments and activities.
Taking Xero on holiday
Before Dave and Kylee used Xero, they struggled to keep up with the paperwork that comes with owning a business.
"We were using way too many different programs. It got to the point where we had no life. Even on the weekends, we spent all our time transferring data from one point to another."
Kylee says even planning holidays became stressful.
"I was using MYOB last year when we went away and I had to hire someone to receive and manage the payments, just to make sure everything was taken care of."
Now the two can monitor their business from anywhere.
"We recently took our laptop to the beach for a week, I set up my deckchair and did my work from there while watching the kids play in the sea. It only took 15 minutes!"
Dave and Kylee plan to do the same while they relax in Fiji – but there are other things they're looking ahead to with real anticipation!
"Massages, I can't wait for massages and the outdoor activities look like fun too," says Kylee.
For Dave, it's about the simple things.
"I'm just looking forward to lying next the pool and not worrying about cleaning it!"
The post Our second chance at a honeymoon | Kylee and Dave Sharp appeared first on Xero Blog.

Source: Xero Blog