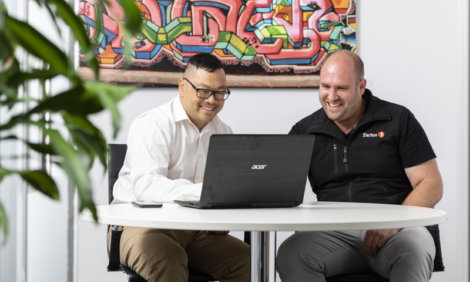 Partner Pages 2019: The play for a better way
After three years of exceptional growth, Terry Chung, director of Factor1 Invoice Finance, and David Fitzgerald, the managing director, were looking for a better way. This is the story of how Factor1 turned obstacles into opportunities for growth, and a chance to improve their operations and services.
A race against time
We made the decision to change our accounting ledger system to Xero, our tax system to Xero Tax, and our practice management system to Xero Practice Manager (XPM). We engaged our Xero account manager and were immediately assigned a Xero partner consultant who was an expert in XPM. Both played a key role in the project and in managing the change. It all needed to be done within a short implementation timeframe of a month from beginning to end. It was like performing open heart surgery to take the heart out of an athlete, replace it with a new better one, and them being able to run a marathon within a month. Ambitious, yes.
Ringing the changes
The timing was tight, but the outcome was well worth it. Now, we have an accounting and practice management system that:
 has advanced features and is scalable to our expanding operations
 has a single ledger system for us and our clients
provides visibility across all jobs at various stages
is able to integrate with other internal systems, like our corporate secretarial system and document management system.
We're starting to see the benefits flow through now from the functions within XPM. That includes job setup, tracking of job status, restricting timesheet entries to only active jobs – so you don't end up with time all over the place – and allocation of staff members to jobs. And we're also seeing benefits in job budgeting and schedule allocation. From a ledger perspective, it's quite seamless if our clients are on Xero, as their information automatically populates the tax return.
One critical element was data transfer. Because we're the custodian of a lot of important information, data replication in Xero Practice Manager and Xero was paramount. We were really relying on the data being converted accurately. After we got the go-ahead, it was a race against time to get our data cleansed, converted and migrated over to the new system. Xero and Xero Practice Manager also had to be configured and set up, and staff trained. We couldn't afford to have slippages of time or any trade-offs in scope. We had to hit the go-live date. Everyone knew the success of the project hinged on the implementation. The Xero team was active and responsive, and our internal team was too.
Adapt and innovate to remain relevant
Overall, this technological leap was a positive experience for the whole team. They enjoyed the challenge, and it gave our clients proof of the firm's willingness to embrace change and seek innovative solutions. We know that many firms have the mentality that if it's not broken, then it doesn't need to be fixed. But we're of the view that, if it will improve the client experience and value we provide to the client, then it should be done. We advise our clients to adapt to any changes in the business landscape to remain relevant and competitive. We've walked the talk and will continue to do so.
Terry and David's story is taken from the new issue of Partner Pages – a magazine of beautifully curated content, written by partners, for partners. Get your free copy at the Roadshow Australia 2019. 
The post Partner Pages 2019: The play for a better way appeared first on Xero Blog.

Source: Xero Blog