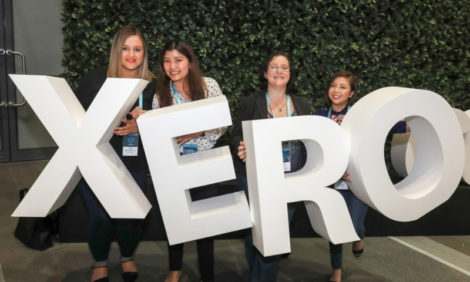 Shh! Get a sneak peek of what's in store at Xerocon Atlanta
This June, hundreds of accounting professionals will be heading to Xerocon in Atlanta. They will be taking advantage of amazing content, the chance to network with each other and to learn how to make their firms the best they can be in 2018 and beyond.
We know you're excited to see what's in store. So while we're busy cooking up an amazing lineup for you, we wanted to share a sneak peak of some of the highlights. And, we checked in with some of our 2017 Xero Partner Award winners about why Xerocon is a must-attend part of their year.
Lights, camera, action!
If I had to choose one word to describe our Xerocon Atlanta lineup, it would be action. We have more breakouts in 2018, which means robust sessions on marketing, planning, product and more. Our keynotes and sessions are poised to continue that Xerocon tradition of sparking ideas and offering actionable steps toward your goals for your firm.
In fact, that spark and energy is what draws Cecilia Gordillo, Founding Partner of Flow CPA and our 2017 Emerging Partner of the Year award winner, to Xerocon.
"We had a few peak motivation days at Xerocon Austin," says Cecilia. "Based on what we learned, we were able to tweak processes in our business to ensure more efficiency and better client service. We couldn't be happier with the results."
Happy clients = happy life
What will motivate you? Some of this year's content will dive into how to define your marketing plan (for more business) and build the perfect Advisor Directory listing (for more business). In other sessions, you'll learn how to stop chasing payments, use automation, and leverage Xero HQ and our ecosystem to become a more efficient firm (so you have time for more, happier clients… see a pattern here?).
Speaking of happier clients, there will be a great session on what you need to know to help your small business clients practice good cybersecurity (and your firm, too). And of course, there are plenty of keynotes from our Xero leadership team and sessions focused on Xero, our products, what's coming and what you need to know for your practice.
Product updates are one reason Nick Pasquarosa, Founder & CEO of Bookkeeper360 and two-time Partner of the Year award winner, wouldn't miss attending in person: "It's about staying connected with peers and friends in the industry and learning about the new updates coming for Xero, both for my firm and my clients."
Get a head start
But there's more, even before Xerocon 'officially' kicks off. Precon is a full day exploration featuring workshops that ensure you will start the conference excited, ready to act and confident in what you need to do first. You can choose from Xero advisor certification, Owning Automation, Accelerating Your Firm, Discovering Your Niche and the Art of the Sale.
And this is just the sneak peek! So your action for today: grab your ticket. Early bird prices end on 2/28, so grab your seat while you can, and be prepared to be amazed. We can't wait to see you there!
The post Shh! Get a sneak peek of what's in store at Xerocon Atlanta appeared first on Xero Blog.

Source: Xero Blog