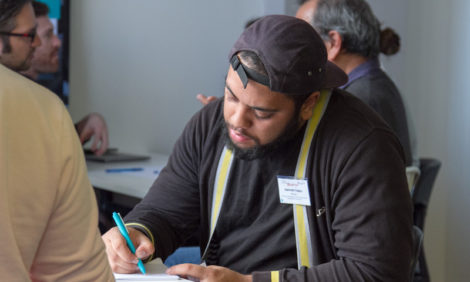 Supporting the startup community within the Pacific Business Trust
Last week Xero supported the entrepreneurial and startup community within the Pacific Business Trust by running a workshop in Auckland. More than 20 young entrepreneurs, at different stages of their startup journeys, took part in the successful event. We talk to Ruth James, Xero's Tech Outreach and Engage Coordinator, about how this idea came about.
The background
Ruth says Xero connected with the Pacific Business Trust CEO, Kim Tuaine, some months ago. "We were very keen to find an opportunity where we could make an impact on the young entrepreneurs in this community. So we set up the Xero Lean Canvas and Ideation Workshop".
"Kim is incredibly passionate about supporting the startup community, and she has a background in founding and running successful companies. She brings a wealth of knowledge and experience that she can use to support and grow Pasifika startups and entrepreneurs. The Pacific Business Trust provides a platform where she is able to do just that and it was amazing to be involved".
Xero strives to have a positive impact on the world by helping small businesses grow and succeed. Creating this workshop with Kim and the Pacific Business Trust seemed like a natural step, to inspire the next generation of entrepreneurs.
The workshop
There was a great energy to the day. The first half of the workshop consisted of a number of talks and presentations, which covered Xero's mission and purpose, key projects and a deep dive into Lean Canvas.
The second half saw participants take part in a 'speed dating' session with some of Xero's subject matter experts. This allowed the attendees to gain a breadth of valuable knowledge about different areas of the business. Many praised this as the highlight of the workshop.
Ruth says the day benefited everyone in a different way. "Some were at the beginning of their journeys, but had prior skills that they wanted to exploit. However, some were already running well-established businesses and looking to branch out with new services and products".
Between Ruth's engagement with the entrepreneurs, valuable insight provided by the speakers, and networking opportunities, everyone left the workshop with a smile on their face and a new outlook on doing business.
The post Supporting the startup community within the Pacific Business Trust appeared first on Xero Blog.

Source: Xero Blog