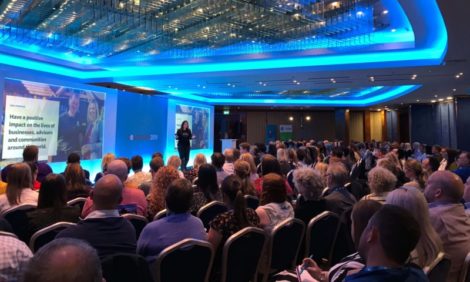 UK Xero Roadshow: 4 things you don't want to miss
Of all the events we do, the Xero Roadshows are some of our favourites. For us at Xero it's an opportunity to hit the road and connect with our beloved community up and down the country.
And yesterday was no exception – we welcomed almost 400 partners at our first London Roadshow where Xero experts shared exciting news, new releases and industry insights for partners to take away.
The good news is we've got five more Roadshows on the agenda. This includes an event in Birmingham, Belfast and another one in London. Places are going fast so make sure to register for your free ticket now.
In the meantime, here's a snippet of what you'll take away…
1. How to master Xero's ecosystem
In a recent survey, 56% of UK businesses said they wanted their accountant to implement new technology for them so they can run and grow their business. To help with this, Xero's ecosystem has over 700 apps.
Join us at the Xero Roadshows where we'll reveal an exciting new programme that helps you navigate our ecosystem and implement the right technology for your clients.
We'll also have some of our app partners there including our headline sponsor apps Gocardless and Fluidly.
2. What's new with Xero Tax
In November 2018, we announced our acquisition of Instafile (now Xero Tax), signaling a new approach to accounts preparation and tax in Xero.
Xero Tax automates the process of tax filing and financial reporting in the UK for Xero partners, connecting Xero directly to UK compliance bodies, including HMRC.
Come along to find out what's been happening with Xero Tax and be one of the first to see a live demo of all the key features in action.
3. Effective marketing tools for your practice
We're often asked about marketing for your practice and how you can impress your clients.
Like your clients, you all have different needs, different mindsets and goals. You vary in size, depending on number of staff and clients you have, you provide different services and you're all very unique.
So how do you make sure and know that you're satisfying everyone's needs? Register for your free place and we'll reveal insights from our recent survey and equip you with new tools we've built to help you master your marketing.
4. How to make the most of cash flow apps
Cash flow is a theme close to the heart of Xero. It's a topic of real relevance to business owners and a potential service line that many of you could be offering.
In recognition of this, we're holding a panel discussion at every Roadshow location where accountants and cash flow experts will share practical tips to help you expand in this territory – and ensure your clients stay on top of their finances.
There's so much more for you to learn and discover. Check out the full Roadshow agenda here. Places are going fast so make sure to register for your free ticket now.
The post UK Xero Roadshow: 4 things you don't want to miss appeared first on Xero Blog.

Source: Xero Blog